We have adapted several of our most popular blog series into PDF e-books – all available for free! Now you can take this valuable information home (or to the barn) with you to read and share at your leisure.
In order to access these valuable materials, we ask that you simply join our mailing list to receive occasional enewsletters with equine digestive health research, education, and news. Also, you will be able to log back in to download any new materials we add in the future. Registration is quick, easy and free.

Note: If you have previously registered on our website via the SUCCEED Challenge or SUCCEED Rewards, you can login now with your existing username / password to access our e-book library.
Member Login
Sign-up for Free E-Book Downloads
Free Downloads Available in the E-Book Library
Nutrition for Horses
This e-book takes a closer look at the factors that influence your horse's nutritional needs based on a model presented by the American College of Veterinary Nutrition. Get an in-depth look at the:

horse factors,
dietary factors,
and feeding-management factors
that affect what and how your horse needs to eat for proper nutrition and health.
It will also provide an outline for how to design a feeding program that is both appropriate and safe, based on your horse's individual needs.
---
Anemia in Horses
In this five chapter e-book, we provide a comprehensive look at equine anemia:

what anemia is and how it affects horses,
what causes equine anemia,
signs and symptoms,
ulcers and anemia,
and treatments.
---
The Guide to Equine Colic Awareness: Recognizing the Risks and How to Avoid Them
Equine colic is a serious problem with horses. Caretakers who both intimately know their horses, and have acquired the proper knowledge, can stay steps ahead of colic. In this four chapter e-book, we provide you with a step-by-step approach for getting to know the risks to your horse and how best to reduce the risk of colic. Learn:

What are your horse's risks for colic?
What early warning signs of colic might your horse be showing?
Are you monitoring your horse's normal, day-to- day patterns and, if so, has your horse displayed inconsistencies lately?
How can you promote a healthy horse lifestyle, resulting in a reduced risk for colic?
From the Crusade Against Equine Colic, presented by SUCCEED.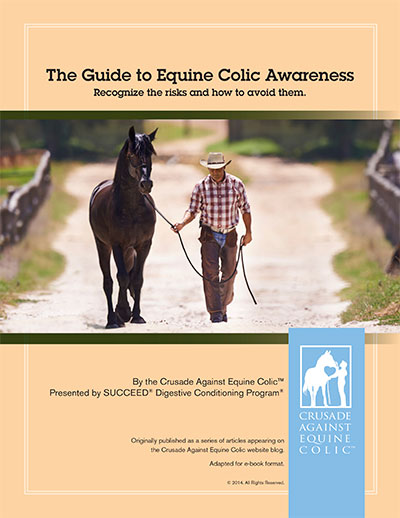 ---
The Colic E-Book for Horse Owners: Understanding the Factors that Can Lead to Colic
Understanding the factors that can lead to colic. Get your free copy of the Colic E-Book for Horse Owners and learn more about:

the importance of preventing colic, not just intervening when it happens,
why we may be one reason horses are prone to colic,
what causes colic in horses,
steps you can take to prevent colic.
From the Crusade Against Equine Colic, presented by SUCCEED.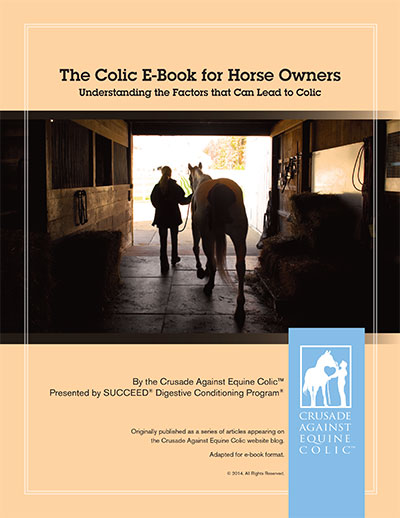 ---
 More E-Books Coming Soon:
Parasites and Gut Health in Horses